For Homes with Single Pane Windows
Single pane windows do not stop that much noise. They are also usually old enough to leak air and more noise into the house too.  Replacing them with a good quality dual pane window will reduce noise levels by up to 25%. However, if you do not choose the right style and glass thickness, the noise levels can actually go up instead of down. If you have an historical home or have other reasons to not replace the windows, perhaps changing the thin glass to a thicker glass is also an option.
The graphic below shows the soundproofing qualities of single pane glass with respect to the thickness of the glass.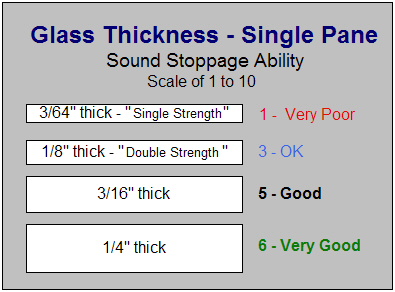 Another option, shown later in this course, will give more noise reduction for the same amount of money as replacing these windows with dual pane windows.
For Home with Dual Pane Windows
If you already have dual pane windows it is very doubtful that you can replace them and improve the amount of noise they stop by very much. Buying replacement dual pane windows as described below may decrease your noise levels by only about 10% over what you already have.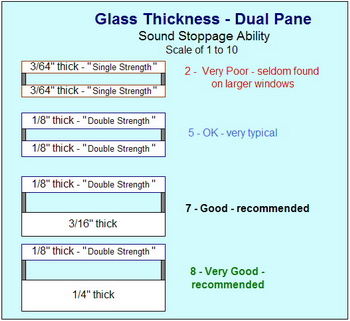 A possible exception would be if your dual pane window glass is extra thin (single-strength glass). The extra thin glass stops very little noise and replacing it can help noticeably. You can even replace the glass in the windows and reduce noise levels, however this can be costly.
Often replacing the glass can cost almost as much as new windows. Going from single strength glass (3/64") to the combinations described earlier, will reduce noise levels by 20% at best.
You should buy dual pane windows that have at least a one inch thick glass assembly. The glass should be 1/8" thick on one side and at least 3/16" thick on the other side.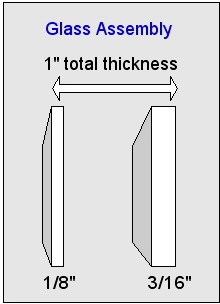 This is still a very economical add-on cost to the windows and gives you the most noise reduction for the dollars spent. Other options like low-e may be nice, but they do virtually nothing to reduce the noise levels. Argon gas has been shown to help reduce noise a little bit. If it is not too expensive an option, it can help. It only helps a little, but every little bit can help.
Reducing the Noise Even More
The bad news is that while 10% to 25% noise reduction is nice, it is not good enough to solve many of the soundproofing problems that you may have. Making a quiet neighborhood real quiet is great, but making a noisy neighborhood only 25% quieter is usually not enough.
The only effective way to soundproof windows is to install a second set of windows. There are many ways to do this and the results can vary a huge amount.
Continue to Window Noise Solution, Part 1